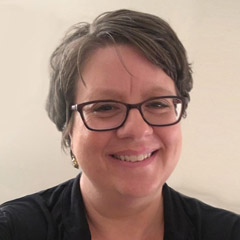 Julie Sutker
MS, CCC-SLP
Speech-Language Pathologist
Background & Experience
Julie Sutker has been providing specialized speech and language services since 1994. In addition to private practice work, she has extensive clinical experience with pediatrics and adults in a variety of settings including hospital inpatient and outpatient clinics, home health services, specialty and rehabilitation hospitals and public and private schools. Most recently, Julie taught courses in the Graduate Program of Speech-Language-Hearing Sciences at Loyola University Maryland as an adjunct professor from 2009-2017 and assisted in the development of a specialized program for developmentally disabled students at the St. Louis Parochial School in Clarksville, MD.
Treatment Philosophy
Julie combines traditional speech and language therapy strategies with evidence-based biofeedback technologies to enhance learning and outcomes. Each plan is designed to meet the client's distinctive needs. Julie is committed to empowering each client to understand and overcome their cognitive and communication challenges. Children and adults will find Julie's approach challenging, effective and enjoyable.
Education
Julie Sutker is licensed in the state of Maryland and certified by the American Speech Language Hearing Association. Julie obtained her Bachelor of Science degree in Speech Pathology and Audiology from the State University of New York at Geneseo. She received her Master of Science degree in Communication Sciences and Disorders from the Massachusetts General Hospital Institute of Health Professions. Julie completed her professional training at the Kennedy Krieger Institute in Baltimore, MD.
Certified Provider
Julie is a certified provider of the following programs:
• Learning Without Tears
• Integrated Listening Systems
• Interactive Metronome
• Safe and Sound
• Scientific Learning/Posit Science
• Voice Pro
Julie provides multisensory reading and writing instruction including:
• All About Spelling
• All About Reading
• Lindamood-Bell Learning Programs
LET'S TALK
For more information, contact Ms. Sutker directly
sutkerspeech@gmail.com
443-492-7013